Schock 35 Project Boat
We have started to re-rig a Schock 35! The Schock is a one design race boat and is a great boat to re-rig with synthetics as it is very tender. Most sail the Schock 35 with 8 or more sailors on the rail! Reefing a sail is recommended at 12 knots! That being said, getting weight off the mast could help this boats performance greatly. The boat has an Aluminum mast with rod rigging, tuff luff headsail foil, undersized synthetic running backs, a boom vang, and lifelines, which are rigged incorrectly and even dangerously. A heavy and leaking hydraulic backstay adjuster and several other areas on the boat that are begging for improvements. We are going to outfit this boat with Colligo hardware from stem to stern, including our new Extra Light Headsail furling (ELHF) system and use this opportunity to show the proper method of using low stretch and high strength synthetics to make things simpler and safer. In addition we will document the changes in weight.
Stay tuned as we update this page with "AFTER" photos and videos!
Shrouds, Mast, & Deck connections
We plan to replace the current rod rigging with Colligo Dux shrouds. After the re-rig, new backing plates will be installed with titanium thru-bolts with Cheeky Tang™ Fittings, and new titanium turnbuckles. Spreader ends will be modified and overall weight of the rig will be documented. Upper and lower standing rigging will be 9 mm Colligo Dux whereas intermediate shrouds will be 7mm.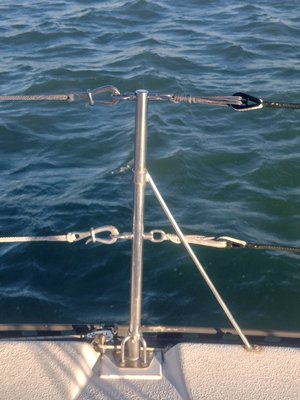 Lifelines
The previous Dyneema lifelines were very poorly rigged. The entire lifeline system was replaced with 5mm Colligo Dux Lifelines with gates and 3mm lashing Dynice Dux. At the bow and stern a brummell splice with a 3 inch eye was luggage tagged to the bow and stern pulpits. At each end the line was then covered with PVC shrink tube. To create a gate, Infinite Dyneema Loops, a CSS70 Terminator® Fitting, and a CSS41 Standard Static Lashing Block was used. To keep the gates tensioned, a whoopee sling mechanism was implemented. This mechanism can be easily adjusted by unlatching the pelican hook and taking up any slack (see video).
Forestay
The rod forestay with a Tuff Luff will be replaced with a hank on sail and our new Extra Lightweight Headsail Furling (ELHF) System.
*'AFTER' photos and videos will be uploaded as we rig the boat
Running Backstay
Currently rigged with a 1:1 through a harrower block to another block with a cam cleat. With this system you only get the purchase of the winch.
We plan to implement a double or triple cascade purchase system. This will be done by putting a Fork Fitting off the chainplate to obtain an 8:1 to 16:1 purchase system. Then the winch will no longer be needed and you can just crank down the runners.
*'AFTER' photos and videos will be uploaded as we rig the boat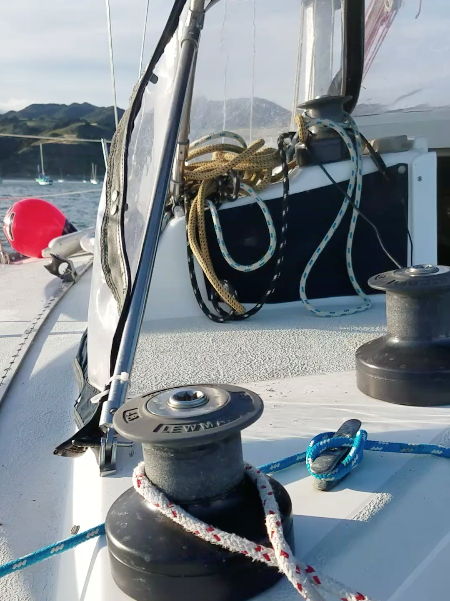 Running Backstay Videos
Before
Boomvang
Boom Vang tensioning system will be an 8/1 cascade purchase using Stackers™ Stackable Static Lashing Blocks with a line running back into cockpit.
*'AFTER' photos and videos will be uploaded as we rig the boat
Colligo Dux Rigging Weight Difference
Stay Tuned for before/after rig weight Table...